This content is available for Groundbreaker donors and above. Make a donation of $300 or more today and receive the Digital All Access pass to view all National Philharmonic online concerts during the 2020-21 season through June 30, 2021 on your schedule and on the platform you choose.
Donate Now to get your Login!
---
Sponsored by Allison I. Fultz and Steve Langer

Nicolette Oppelt, flute
Mark Hill, oboe
Michael Hall, horn
Erich Heckscher, bassoon
Cheryl Hill, clarinet
Laura Colgate, violin
Gino Madrid, violin
Stephanie Knutsen, viola
Kerry Van Laanen, cello
Valerie Coleman, Umoja
Florence Price, Five Folksongs in Counterpoint
Calvary
Oh my darlin' Clementine
Drink to me with thine own eyes
Shortnin' bread
Swing low, sweet chariot
Samuel Barber, Summer Music
Amy Beach, Pastorale for Woodwind Quintet, op. 151
Jerod Tate, Pisachi (Reveal)
Gershwin, Lullaby
A special thanks to our 2020-21 Season Sponsors – Jean and Paul Dudek; Ed Grossman and Rochelle Stanfield; Ted Mirecki, NatPhil Board Member; Martha Newman; Doug and Emily Jacobson; and Potter Violins.
---
Spring is in the Air
National Philharmonic partnership with Karin's Florist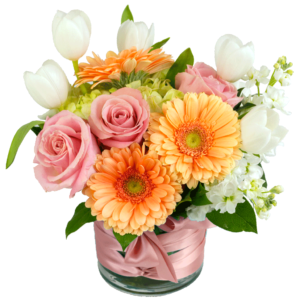 Spring is a time of renewal, growth, and expansion. National Philharmonic is partnering with Karin's Florist to bring a little bit of spring into your house as you enjoy our Music That Renews: American Roots concert. The Spring Love Bouquet is an arrangement of peach, pink, and white flowers in a leaf lined cylinder, wrapped with a matching peach ribbon. A portion of the proceeds from every purchase of the Spring Love Bouquet in March will go to National Philharmonic.
Order Yours Now
Backstage at NatPhil
Rebecca Smithorn with Jerod Tate
---