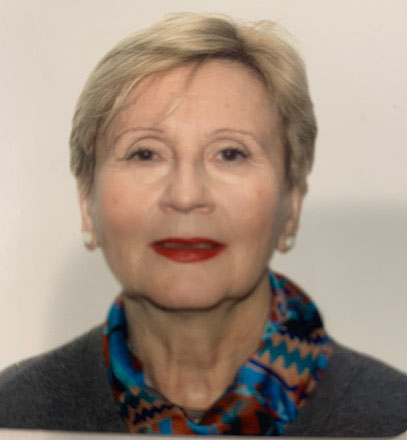 Elzbieta Chlopecka Vande Sande
Board Member
Born and educated in Poland (engineering and law degrees), Elzbieta Chlopecka Vande Sande continued her studies after immigrating to the United States, earning a Master's in Comparative Law degree from the George Washington University law school. Admitted to the DC bar, Mrs. Vande Sande went on to practice patent law as an associate and later at a partner at Pollack, Vande Sande and Amernick. 
Over more than 40 years, Mrs. Vande Sande has promoted Polish culture in America with hundreds of hours of volunteer service and tens of thousands of dollars in financial support. She has been recognized for her efforts with the Knight's Cross (2005) and the Officer's Cross (2015) of the Order of Merits of the Republic of Poland.  
Working with the Polish Embassy and Consulate in Washington, DC and with numerous organizations, including the Polish American Congress the Polish American Arts Association and the Polish Library in Washington. Mrs. Vande Sande participated in organizing numerous Polish cultural events at venues including Georgetown University, the Pope John Paul II Cultural Center, the Library of Congress and the National Gallery of Art. These included exhibitions and lectures devoted to Wladyslaw Reymot, Joseph Conrad, Ignacy Jan Paderewski and Kazimierz Pulaski; and concerts featuring Andrzej Makowicz, Urszula Dudziak and one dedicated to Wladyslaw Szpilman in celebration of Roman Polanski's Oscar award for the film The Pianist. 
As a member of the Women's Committee and Endowment Trust at the National Museum of Women in the Arts in Washington DC, Mrs. Vande Sande assisted in promoting the exhibition of the work Magdalena Abakanowicz at the New York Ave Sculpture Project (2014); Assisted in procuring art from Poland's museum Zamkowe w Lancucie for the Picturing Mary exhibition 2014/2015; and help sponsor the Ursula von Rydingsvard exhibition (2019). 
Mrs. Vande Sande has served on numerous Boards of directors, including the board of the Jan Karski institute. She is presently a member of the board of directors of the national Philharmonic at Strathmore where she tirelessly supports the work of the Philharmonic music director and conductor Piotr Gajewski and the many Polish culture projects of the Philharmonic. These projects included a concert to mark the 100th anniversary of Witold Lutoslawski (2013); a 100th anniversary tribute to Jan Karski 2014, which included an exhibition at the music center at Strathmore; And a concert celebrating the 100th anniversary of Poland regaining its independence 2019. A 2022 project featured Polish soprano Alexandra Kurzak in a performance of Henryk Mikolaj Gorecki's monumental Symphony No. 3 (Symphony of Sorrowful Songs). 
Mrs. Vande Sande was also involved with planning and organizing of several national Philharmonic Polish chamber music concerts at the Polish Embassy, and initiating and promoting various concerts of Polish mezzo soprano Magdalena Wor, as well as sponsoring her debut compact disc featuring international and Polish Christmas music.