Youth
National Philharmonic's Virtual Solo Bach Competition
Call for Entry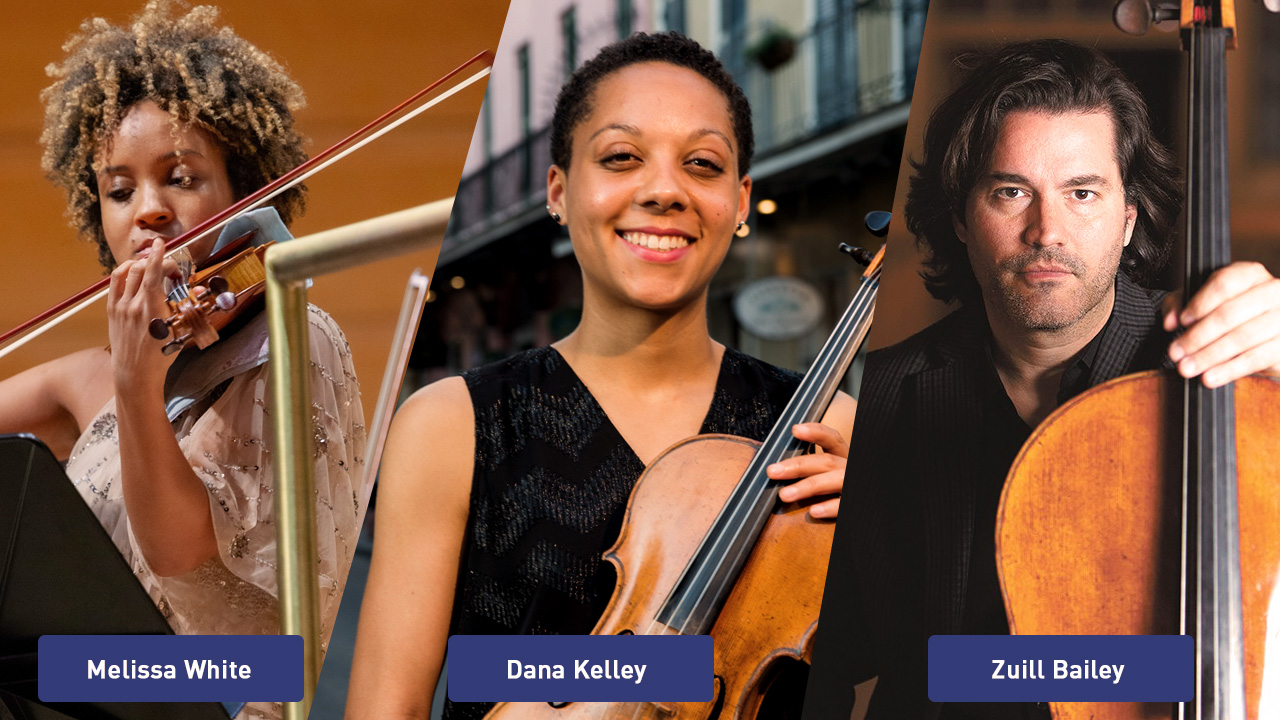 National Philharmonic's Virtual Solo Bach Competition is open to students who play violin, viola, cello, and bass throughout the DC Metro Region. Students entering will submit a video of two movements from the same Partita/Sonata/Suite, from the solo repertoire written by J.S. Bach for a string instrument.
Judging
Round One will be judged by National Philharmonic string players, including our newly appointed concertmaster, Laura Colgate, principal cellist Lori Barnett, and violist Judy Silverman. Finalists from this round will go on to Round Two. Judges for Round Two include cellist Zuill Bailey, violinist Melissa White, and viola judge Dana Kelley.
Prizes
Prizes will be awarded to winners from each instrument group from both the Junior and Senior Levels.
Deadline
Videos and applications must be submitted by Nov. 15, 2020.
Learn More
The Solo Bach Competition is supported by a generous grant provided by Jill and Jim Lipton.
The Lesson Bank
Virtual School Program · Middle School
Launched in the summer of 2020, The Lesson Bank brings music instruction into the homes of young musicians in a practical and powerful way. Music students are matched with a National Philharmonic musician and receive six half-hour lessons over the course of six weeks through Zoom.
National Philharmonic partners with students from Nicolas Orem Middle School in Hyattsville, MD, St. Joseph's Catholic School in Beltsville, MD and the DC Youth Orchestra Program who, because of limited resources, have never had an opportunity for one-on-one class instruction. Students in the program are receiving instruction on a wide range of instruments, including violin, viola, cello, flute, trumpet, and voice.
"I have heard from two of my families that their children will be receiving the private lessons with the National Philharmonic and I am so excited for them! Thank you for providing such an incredible opportunity for my students."

Gina Gomes, Music and Art teacher at Saint Joseph's Regional Catholic School
The NatPhil Lesson Bank program is supported by a generous grant provided by Jill and Jim Lipton; additional support is provided by Charles Dukes.
Color the Music
School Program · Ages 5–17
Launched in 2016 the Color the Music program encourages students 5-17 to create artwork depicting music performed at National Philharmonic's concerts throughout the season. Artwork is on display in the Orchestra Lobby of the Music Center at Strathmore the weekend of the concerts, on our website and social media. To date 20 Montgomery County Schools grades K-12 and 600+ students have participated in the program.
"…this was a truly amazing opportunity for my kiddos! Their art looked amazing… It was a really great experience."

Sara Lucas-dress, Adaptive Art Specialist, Longview School
"They enjoyed this new kind of inspiration for their art."

MCPS HS Foundations of Art Teacher
Masterclasses
Young Musicians
Throughout the year, the National Philharmonic offers talented young musicians the opportunity to perform for and be mentored by critically acclaimed guest artists who appear in concert with the Philharmonic.
Pre-selected students perform these master classes, which are free and open to the public, providing a chance to observe master musicians sharing their experience and skills with the country's future performers.
National Philharmonic Masterclasses are sponsored by Potter Violins.
2nd Grade Concerts
School Program · Montgomery County 2nd Graders
Each year, the National Philharmonic performs a concert for every 2nd grader in the county, introducing over 10,000 students to the wonder of live performance.
Provided by Strathmore in partnership with Montgomery County Public Schools, these collaborative concerts provide a lesson on classical music and meet curriculum objectives for students. Strathmore Student Concerts are made possible with generous support from the Paul M. Angell Family Foundation, Geico, and Jordan Kitts Music.
Summer String Institute
The Summer String Institute immerses talented and aspiring middle school and high school string musicians in an intensive week of mentoring, chamber music coaching, individual lessons and rehearsals.
The Senior Institute Orchestra, led by National Philharmonic Maestro Piotr Gajewski, has been cited by the Washington Post as a "precise and elegant ensemble." The Junior Institute Orchestra provides the same intense and high-quality experience for younger students. While Summer String Institute students work on ambitious repertoire to develop true professionalism, they also enjoy camaraderie and the adventure of creating great music.
Both the Senior and Junior Institute Orchestras are run in a day-camp arrangement, with an intensive week of orchestra rehearsals, chamber music rehearsals and coaching's, private lessons, and movement classes, culminating with performances by the orchestra and chamber ensembles.